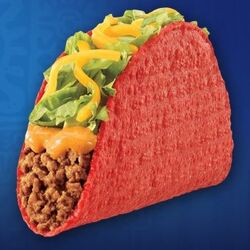 The Volcano Taco was a taco that was initially available in a limited-time release at select Taco Bell locations during the fall of 2008. The Volcano Taco consisted of a distinctive red crunchy taco shell, stuffed with ground beef, lettuce, and Lava Sauce, a spicy nacho cheese sauce that was unavailable prior to the introduction of Volcano Taco. The Volcano Taco is unrelated to Taco Bell's 1995 limited edition Volcano Burrito.
In July 2009, the Volcano Taco returned and became part of the permanent menu, as indicated by an RGM meeting that year. In August of 2013, when the Fiery Doritos Locos Taco was released, the Volcano Taco was phased out of Taco Bell locations.
Red Taco Shell
Edit
One of the most prominent design features of Volcano Taco is its red crunchy taco shell. To date, it is the only Taco Bell product to utilize an alternative-colored taco shell, other than the Black Jack Taco (featuring a black shell) and the Doritos Locos Taco (featuring an orange Dorito-colored shell). It must be noted that the red shell was strictly cosmetic, and the taste was not different from that of an original crunchy taco shell.
During the Volcano Taco's run, speculation arose over whether the Crunchy Red Strips, found in items such as the Big Taste Taco, originated from the same red-tortilla source material as the Volcano Taco shell.
Advertising
Edit
The Volcano Taco was billed in Taco Bell commercials as possibly "The spiciest taco ever." The Volcano Taco was also included in an incarnation of the Big Bell Box Meal, as well as the Why Pay More!? Value Menu.
Ad blocker interference detected!
Wikia is a free-to-use site that makes money from advertising. We have a modified experience for viewers using ad blockers

Wikia is not accessible if you've made further modifications. Remove the custom ad blocker rule(s) and the page will load as expected.