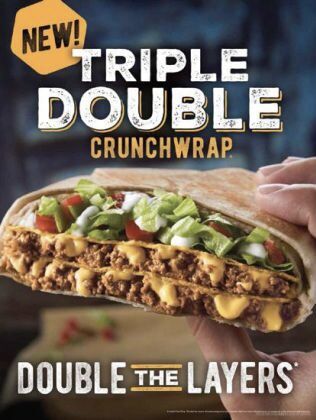 The Triple Double Crunchwrap is a menu item, released in July 2016. It contains double layers of Seasoned Beef, double layers of Nacho Cheese Sauce, and double layers of a Crunchy Tostada Shell, alongside lettuce, diced tomatoes, and sour cream.
Its name derives from the three double-layers of beef, shell, and cheese. It is uncertain as to why the obvious layer of lettuce, tomatoes, and sour cream were left out of the naming.
The wrap clocks in at 700 calories per serving, making it one of Taco Bell's higher-calorie options.
The wrap can also be upgraded to Spicy, which includes spicy ranch sauce and added jalapenos in the top layer. This upgraded wrap clocks in at 760 calories.
References
Edit
Triple Double Crunchwrap. From TacoBell.com. Retrieved August 4, 2016.
Ad blocker interference detected!
Wikia is a free-to-use site that makes money from advertising. We have a modified experience for viewers using ad blockers

Wikia is not accessible if you've made further modifications. Remove the custom ad blocker rule(s) and the page will load as expected.