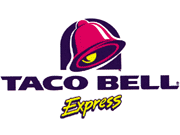 Taco Bell Express
is a chain of Taco Bell restaurants that exist to serve "hungry customers on-the-go".
It commonly has a more restricted menu, selling the basics, like tacos and burritos. They are smaller in size than normal Taco Bell restaurants, and seating (like chairs and tables) often isn't available.
Express locations are available sometimes at malls, gas stations, stores (like Target, Kmart, etc), and airports.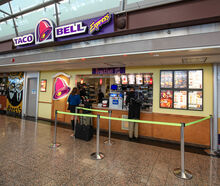 Ad blocker interference detected!
Wikia is a free-to-use site that makes money from advertising. We have a modified experience for viewers using ad blockers

Wikia is not accessible if you've made further modifications. Remove the custom ad blocker rule(s) and the page will load as expected.