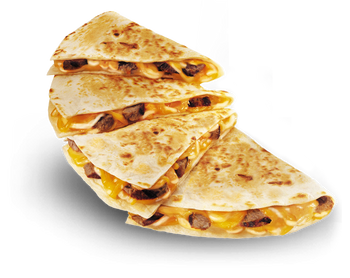 Steak Quesadillas are a variety of quesadilla served at Taco Bell. They first appeared in late 2002.
Ingredients
Edit
Steak Quesadillas consist of marinated premium thick cut steak combined with their three-cheese blend and a Creamy Jalapeño Sauce all folded in a freshly grilled tortilla.
Nutrition Facts
Edit
Steak Quesadillas contain 520 calories, 28 grams of fat and 1200 milligrams of sodium.
Ad blocker interference detected!
Wikia is a free-to-use site that makes money from advertising. We have a modified experience for viewers using ad blockers

Wikia is not accessible if you've made further modifications. Remove the custom ad blocker rule(s) and the page will load as expected.