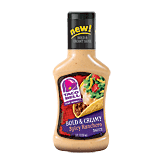 Spicy Ranch is a tangy, sweet concoction created by Taco Bell. It combines the gentle tingle of heaven's touch, with the hard stinging wrath of hell's fury. This sauce is very similar in color to regular ranch dressing. Some might even say that they look the same, maybe even taste the same. However, the key difference is in the kick it offers, where regular ranch lacks.
Spicy Ranch, however, is only found in certain areas of the U.S. and not outside.
If you are up for the challenge, next time you visit a taco bell ask for some spicy ranch. It is sure to make your day lighter, but not your wallet. The pricing ranges from $0.33 - $0.66, depending on the location of you neighborhood taco bell.
And, of course, as many of the taco bell products, it is also available at your local grocery store.
Ad blocker interference detected!
Wikia is a free-to-use site that makes money from advertising. We have a modified experience for viewers using ad blockers

Wikia is not accessible if you've made further modifications. Remove the custom ad blocker rule(s) and the page will load as expected.