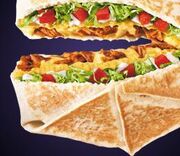 The Spicy Chicken Crunchwrap Supreme was a menu item available at Taco Bell from 2006 until 2010. At the later part in its production run, it was not offered at many Taco Bell locations.
Ingredients
Edit
It contained Taco Bell chicken, Lava sauce, tostada shell, lettuce, tomato, and sour cream.
Ad blocker interference detected!
Wikia is a free-to-use site that makes money from advertising. We have a modified experience for viewers using ad blockers

Wikia is not accessible if you've made further modifications. Remove the custom ad blocker rule(s) and the page will load as expected.