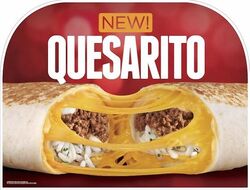 The quesarito is a current menu item available at Taco Bell. It has the key components of a quesadilla and burrito rolled into one, and one is usually filled with seasoned beef, premium Latin rice, Chipotle sauce, reduced-fat sour cream, and then wrapped up in a grilled quesadilla loaded with melted cheeses.
The idea of the quesarito is not an original of Taco Bell, as Chipotle restaurants designed it from their secret menu. This idea dates back to 2011. However, Taco Bell is credited with innovating their own style of the quesarito, and making the food go mainstream and national in 2014.
Special Releases
Edit
Since the mainstream launch of the quesarito, Taco Bell has introduced several variants of the quesarito. These include:
As an alternative, customers may also swap the ground beef for steak or chicken.
Ad blocker interference detected!
Wikia is a free-to-use site that makes money from advertising. We have a modified experience for viewers using ad blockers

Wikia is not accessible if you've made further modifications. Remove the custom ad blocker rule(s) and the page will load as expected.