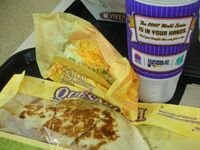 Quesadilla is a popular Taco Bell dish in which a large flour tortilla has been stuffed with cheese, Creamy Jalapeño Sauce and either chicken or beef, before being folded in half and cooked in a grill press. Chicken Quesadillas were introduced as a promotional item in 2002, but along with a steak version, were promoted to permanent menu items later that year.
Packaging
Edit
Quesadillas are cut into fourths and generally served in a distinctive wrapper with a clear plastic viewing window.
Varieties
Edit
Limited-availability quesadillas
Edit
External links
Edit
Ad blocker interference detected!
Wikia is a free-to-use site that makes money from advertising. We have a modified experience for viewers using ad blockers

Wikia is not accessible if you've made further modifications. Remove the custom ad blocker rule(s) and the page will load as expected.