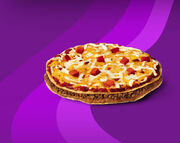 The Mexican Pizza is a specialty item available at Taco Bell.
Two crisp pizza shells filled with seasoned ground beef, hearty beans and then topped with pizza sauce, a blend of three real cheeses – cheddar, pepper jack and mozzarella – melted to perfection, and topped with diced ripe tomatoes. At one point it included green onions but Taco Bell no longer carries that ingredient.
Ad blocker interference detected!
Wikia is a free-to-use site that makes money from advertising. We have a modified experience for viewers using ad blockers

Wikia is not accessible if you've made further modifications. Remove the custom ad blocker rule(s) and the page will load as expected.