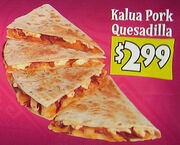 Kalua Pork Quesadilla is a variation on Taco Bell's popular quesadilla in which the chicken or beef of the standard quesadilla has been replaced with Kalua Pork. It is currently available only at Hawaiian Taco Bell locations and has yet to appear on mainland menus.
Nutrition Facts
Edit
Kalua Pork Quesadillas contained 470 calories, 24 grams of fat, 30 grams of carbohydrates, 34 grams of protein, and 1,600 milligrams of sodium.
References
Edit
Ad blocker interference detected!
Wikia is a free-to-use site that makes money from advertising. We have a modified experience for viewers using ad blockers

Wikia is not accessible if you've made further modifications. Remove the custom ad blocker rule(s) and the page will load as expected.