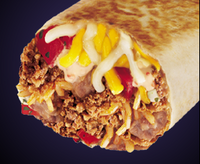 Grilled Stuft Burrito is a style of burrito served at Taco Bell, in which the burrito has been cooked using a Grill Press. The original Grilled Stuft Burrito features a flour tortilla stuffed with ground beef, beans, rice, a three-cheese blend featuring cheddar, pepperjack and mozzarella, creamy Pepper Jack Sauce, and Fiesta Salsa, although it can be upgraded to included grilled chicken or steak in place of the ground beef. According to Bill Pearce, Chief Marketing Officer of Taco Bell Corp., "Grilled Stuft Burritos are some of the most popular and portable menu items Taco Bell has to offer."
A great variety of Grilled Stuft Burritos have come and gone over the years, including:
External links
Edit
Ad blocker interference detected!
Wikia is a free-to-use site that makes money from advertising. We have a modified experience for viewers using ad blockers

Wikia is not accessible if you've made further modifications. Remove the custom ad blocker rule(s) and the page will load as expected.