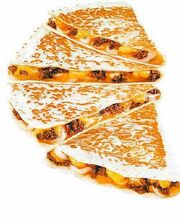 Chicken Quesadillas are a variety of quesadilla served at Taco Bell. They first appeared in winter of 2002 as a promotional item, but were soon joined by its brethren, Steak Quesadillas on the permanent menu.
Ingredients
Edit
A relatively simple dish, Chicken Quesadillas consist of marinated white-meat chicken, Taco Bell's distinctive three-cheese blend and Creamy Jalapeño Sauce stuffed into a large flour tortilla, which is cooked on a grill press.
Nutrition Facts
Edit
Chicken Quesadillas contain 520 calories, 28 grams of fat and 28 grams of protein.