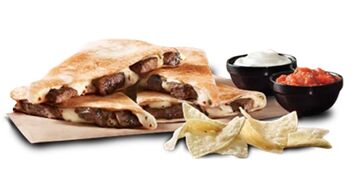 Taco Bell's Cantina Double Steak Quesadillas were a variety of quesadillas served at Taco Bell for a limited time in the summer of 2013.
Ingredients
Edit
Cantina Double Steak Quesadillas consisted of a double portion of thick-cut, marinated steak with pepper jack cheese folded inside a large flour tortilla, which was then pressed and grilled. It was also served with a side of tortilla chips, sour cream, and Cantina salsa on the side.
Nutrition Facts
Edit
Cantina Double Steak Quesadillas contained 960 calories, 45 grams of fat and 2070 milligrams of sodium.
Ad blocker interference detected!
Wikia is a free-to-use site that makes money from advertising. We have a modified experience for viewers using ad blockers

Wikia is not accessible if you've made further modifications. Remove the custom ad blocker rule(s) and the page will load as expected.