The Black Jack Taco was a limited edition, Halloween-themed taco, that consisted of a black taco shell filled with beef, Baja Sauce, lettuce and the three cheese blend. It premiered in 2009 and has not made a return since.
Controversy
Edit
The Black Jack Taco made waves when it was discovered that it could turn consumer's stool green, similar to Burger King's Halloween Whopper in 2015. The black dye is thought to be responsible for the color change.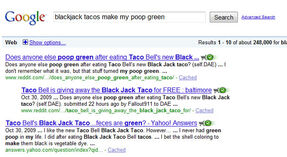 Ad blocker interference detected!
Wikia is a free-to-use site that makes money from advertising. We have a modified experience for viewers using ad blockers

Wikia is not accessible if you've made further modifications. Remove the custom ad blocker rule(s) and the page will load as expected.