Big Bell Value Menu
Talk

0
162pages on
this wiki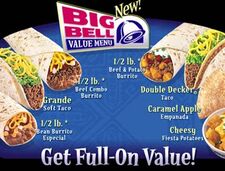 The Big Bell Value Menu
is a section of
Taco Bell's
menu that features discounted items that was introduced in the early '80s to compete with the McDonald's Dollar menu and Wendy's Super Value Menu, although it should be noted that Taco Bell's value menu dates back to the 1980's, in the form of the "59, 79, 99" pricing plan, in which nearly everything on the menu was priced at 59¢, 79¢, or 99¢.
Selection
Edit
Items generally found on the Big Bell Value Menu include:
Controversy
Edit
It has been noted that the consistency of Cheesy Fiesta Potatoes is eerily similar to that of the "Apples" found in the Caramel Apple Empanada. Similarities between the two items is only exacerbated by the fact that these items were introduced to the menu at the same time and are the only items on Taco Bell's vast menu to feature the potato-ish/apple-ish substance in question.