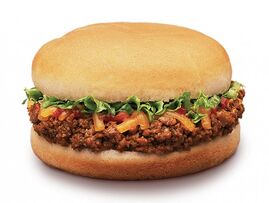 The Bell Beefer was a hamburger bun based meal on Taco Bell's menu from the mid 1970's to the mid 1990's as an update to the Bell Burger. Created to combat items offered at hamburger chains, the Bell Beefer was a bun with taco meat, diced onions, shredded lettuce and mild border sauce. A Bell Beefer Supreme was also offered which added diced tomatoes and grated cheese. More like a sloppy joe than a hamburger, it was well-liked early on and declined in popularity during the late 1980's.
Ad blocker interference detected!
Wikia is a free-to-use site that makes money from advertising. We have a modified experience for viewers using ad blockers

Wikia is not accessible if you've made further modifications. Remove the custom ad blocker rule(s) and the page will load as expected.