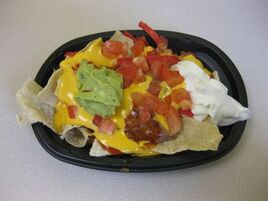 7 Layer Nachos were a limited-run nachos item at Taco Bell. The chips were topped with nacho cheese, beans, Red Sauce, guacamole, sour cream, tomatoes, green onions and crunchy red tortilla strips. They lasted from 2009 until 2013.
The nachos were later remade into the 7 Layer Dip Nachos, which were nearly identical. The Dip Nachos contained no green onions, and the dollops of sour cream and guacamole were closer together, thereby making them easier to mix together.
During its availability, customers could add seasoned ground beef to this nacho dish upon request, or simply order it meatless.
Ad blocker interference detected!
Wikia is a free-to-use site that makes money from advertising. We have a modified experience for viewers using ad blockers

Wikia is not accessible if you've made further modifications. Remove the custom ad blocker rule(s) and the page will load as expected.